Moving your Magento Ecommerce Website
It happens to us all at one point or another, be it bad service from our web hosting company or just a better deal elsewhere, sometimes you just have to move your ecommerce website to a different hosting company.  This can be quite the daunting task with your whole online business at risk if something happens to go wrong. Many ecommerce website design companies will do this for you, but if you are going to attempt this yourself please read our easy guide detailing how we here at Unltd Ecommerce move our sites.
Before we start I would just like to state, we are not saying this is the only way to move your website, or even the best.  This is just the tried and tested method that we used when moving all of our clients websites from our old hosts to the awesome new company.
Preperation for moving your ecommerce website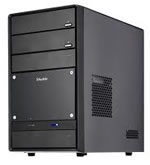 First things first, download your entire website to your computer using your favorite FTP client.
Now we are going to back-up our database.
First we will login to our Magento admin panel, visit the "Cache Management" button and Refresh all of the Caches for your website.
To complete the back-up of the database we can either:
1) Go to System > Tools > Backup and create a back-up and download it as a zip to your computer or
2) Use a MySQL tool like myPhpAdmin or HeidiSQL to Export your entire database as a .sql file.
Set up your new ecommerce website
Now we need to install copy of Magento on your new web server and go through the Magento set-up process as usual.
Most web hosting companies these days give you a temporary address for your website which you can use whilst waiting for your domain name to circulate.  This is perfect for this process as it allows us to leave our existing website live online whilst we completely set-up the new version of it on and new server.
Now with your empty version of Magento installed and working on the new server you can upload the backed up version of your ecommerce website that you created at the start of this tutorial. To do this simply connect using your favorite FTP client, highlight all of the backedup files and folders and press "Upload" (If asked be sure to select "Overwrite").
Moving your Ecommerce website database
Now we have all of the files in the correct place we just need to move your database over too.
Login to the database of your new web server and delete all of the tables Magento has created.
Once they are all gone you can select "Import" and select your .sql or zip file created above.
Press import, cross your fingers and as soon as the import is completed your can check your new website online.
It really is that easy, all that is left to do is change the DNS server addresses for your domain name to point to the new server. Once this is done you can go to your Magento admin on your new server and change the websites URL in the Configuration > Web section. Simples.
I hope this helps you move your ecommerce website with ease. If you want to hire a professional ecommerce website designer to complete this for you be sure to get in touch.
That just leaves on last thing which is the database