Change Magento Admin URL for added security
Security is massive issue for ecommerce websites. Hackers are forever coming up with new ways to hack into presumably secure areas, with this in mind we need to do everything we can to minimize the risk of this happening to our websites. Magento is one of the best ecommerce platforms on the market, but with such a large amount of users it can also be a target for hackers. A simple security update you can make to your Magento ecommerce website is to change the default URL for the Magento Admin Panel. This is a quick way to give a little extra security to your ecommerce website.
Follow our simple guide below for added Magento security:
NOTE: Before we start, please DO NOT use the web interface that is built in to the Magento Admin Panel to change the admin path, this can cause numerous errors!
Step 1 – Get Local
Locate your local.xml configuration file, you can find this in the app/etc/ directory under your Magento installation. Open the file with your favorite text editor and locate the following code segment: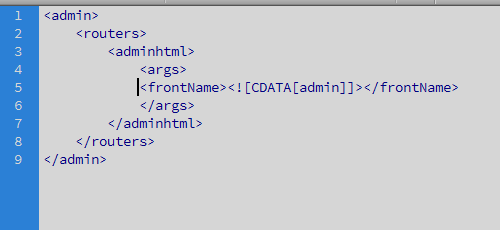 Now, all you have to do is swap the word admin for whatever name you like for your new Magento admin path. Choose something personal which would be impossible to guess. You can use letters and numbers but no special characters.  Save the file and if necessary upload it back to the app/etc folder.
Almost done…
Lastly we just need to delete the cache so that the changes will show online. Use your favorite FTP client (we like Filezilla), return to the Magento root directory and then delete everything from the var/cache/ directory. DO NOT delete the var/cache folder itself, just contents of it!
And that's it – simple security in minutes.  We hope this helps improve the security on your website, if you have any other handy Magento security tips please feel free to post them below, we'd love to hear from you.