There has been an error….
Over the last 7 or 8 ecommerce websites we have developed in Magento, we noticed the following error – Exception printing is disabled.  Sometimes this error occurs when you install Magento but today it happened out of the blue.  The website does not display online and you just see the Magento error page stating:
Exception printing is disabled by default for security reasons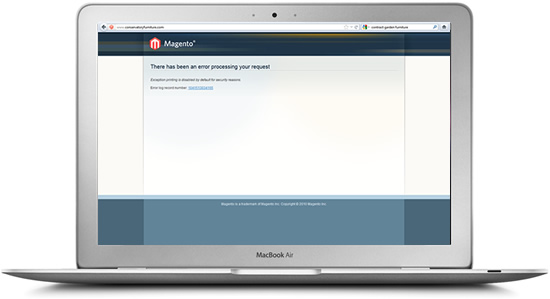 When we first saw this message (after the initial panic), we jumped straight to Google to try and find a quick fix and the reason for this error occurring.  Unfortunately, after searching for Exception printing is disabled, there was very little help to be found online for this.  Luckily, one of our guys here in the office had seen this before and managed to work out the solution in just a few minutes.
If you are creating your ecommerce website design yourself and come across this problem, here is our way of fixing the problem:
 Connect via FTP and locate the ERRORS folder within your Magento install
Find the local.xml.sample file and change the name of this to just local.xml
Now when you visit the live website you should see a page full of error messages (it's all good, this is how we found the error in the first place!)
Now get back into your FTP client, find and open the following file – /lin/Zend/Cache/Backend/File.php
Locate the following line – protected $_options = array( 'cache_dir' => 'null',
Change this to – protected $_options = array( 'cache_dir' => 'tmp/',
Save this and upload it back where it came from
Now just go to the main Magento folder and create a folder named "tmp" – Simples!
I hope this is of some help to you all so you don't have to spend too long trying to fix this error.