How to Increase Your Ecommerce Website Sales by A/B Testing
The only purpose of an ecommerce website to exist is to generate revenue and make sales. But this is also the biggest headache for business owners. After you get your website designed and up you need to make changes on a regular basis in order to increase your online sales.
The process of selling online requires testing what works and what doesn't on a regular basis and this process is much like the old trial and error method employed by engineers, scientists all over the world. In order to build an efficient sales machine your ecommerce website must be optimized regularly.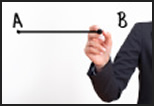 A/B testing is a tactic utilized by marketers to increase the conversions and sales. A/B testing involves testing the various elements of a landing page or ecommerce website and run tests using a slightly altered version with the original "control".
You can test almost any feature of a landing page and test how a different version performs. If you are selling products through your ecommerce website then most probably your product page uses various landing page elements such as a headline, product description, buy button. You can test all of these elements by tweaking one or all of them and measuring the conversions as compared to the older version.
And the best part is that in order to do split testing you don't even need to change your ecommerce website appearance permanently. You only need to install a code on your website and then half of the visitors will see your original version and the other half will be shown the test copy. So if a new version of your web page doesn't works better you will have your older page intact.
Many times even minor tweaks such as changing the headline, adding some more product information, changing the colour of buy button can have drastic impact over conversions. In this case study it is mentioned that how changing a single word increased conversions 161% . Here they just changed the phrase from "Request Quote" to "Request Pricing" and the click through rate increased from 0.54% to 1.4%, an increase of 161.66%.
Tools for A/B testing
Although there are a lot of companies offering split testing services but Visualwebsiteoptimizer.com, Optimizely.com and Google content Experiments are the most popular ones . Among these Google Content Experiments is free and the other are paid tools with monthly subscription plans.
In our next post we will discuss more about increasing conversion rates and sales . Please leave your comments below and share this article if you enjoyed it.